These Are The Most Popular Baby Names In The U.S. Right Now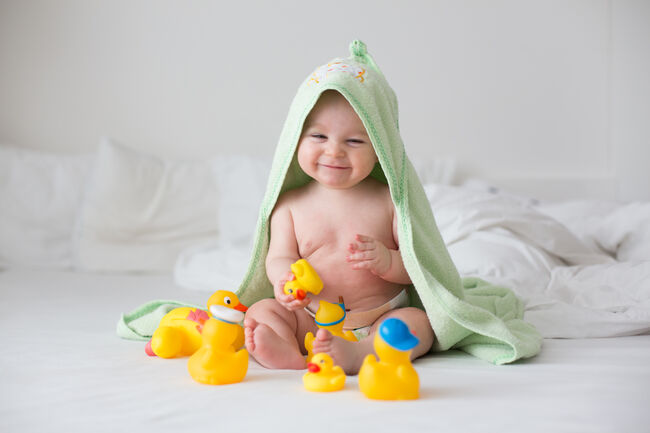 The Social Security Administration's (SSA) list for the most popular baby names of 2018 is finally here. While there are plenty of baby books you can turn to for baby name inspiration when you're expecting, the Social Security Administration's annual list is the place to find out which names are most commonly used in the United States.
The SSA tracks all births that take place in the U.S. every year and then tallies exactly who many babies were given certain names. This obviously takes a lot of time (a lot of babies are born every year), so, it takes a while for the previous year's list to be released. They've just released the most popular names from 2018. Here's the SSA's findings:
Most Popular Baby Boy Names 2018
Liam
Noah
William
James
Oliver
Benjamin
Elijah
Lucas
Mason
Logan
Most Popular Baby Girl Names 2018
Emma
Olivia
Ava
Isabella
Sophia
Charlotte
Mia
Amelia
Harper
Evelyn
Another resource for baby name inspiration is Names.org, which is an accessible online database of name meanings and origins. Though we're only six months into 2019, Names.org has revealed their predictions for which monikers will end up on the SSA's most popular names list for 2019.
According to Real Simple, Names.org comes up with these predictions by combining data from the Social Security Administration with user interest on their own site. Here are the predictions for 2019:
Predictions for the Top 10 Girls Names in 2019
Emma (Previously #1)
Ava (Previously #3)
Olivia (Previously #2)
Isabella (Previously #4)
Amelia (Previously #8)
Mia (Previously #6)
Evelyn (Previously #9)
Charlotte (Previously #7)
Sophia (Previously #5)
Harper (Previously #11)
Predictions for the Top 10 Boys Names in 2019
Liam (Previously #1)
Noah (Previously #2)
Logan (Previously #5)
James (Previously #4)
Oliver (Previously #9)
Elijah (Previously #8)
Benjamin (Previously #6)
William (Previously #3)
Lucas (Previously #11)
Mason (Previously #7)
In addition to their main list, Names.org also puts together a list of "wild card" or "up and coming" names for the year. The wildcard list for girls shows a a potential rise in nature-inspired name, while the boys list also sees some interesting potential options.
Top 15 Wildcard Names for Girls in 2019
Nova
Everly
Kinsley
Willow
Aurora
Luna
Emilia
Valentina
Hazel
Quinn
Amelia
Eliana
Stella
Naomi
Paisley
Top 15 Wildcard Names for Boys in 2019
Ezekiel
Maverick
Jameson
Ezra
Mateo
Elias
Theodore
Asher
Santiago
Sawyer
Grayson
Josiah
Greyson
Easton
Leo
Will any of these names end up on your own baby name list?
Photo: Getty